All Island Chapters Virtual Webinar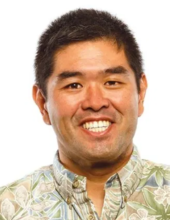 Topic: "Four Principles of Family Business…Popeye's Style"
Speaker: Sean Uezu is President, Hawaii Pop's Inc., operator of Popeyes Louisiana Kitchen restaurants in Hawaii, Principal U-Mobile LLC, and Principal Take-N-Bake Hawaii LLC. He graduated from the University of Washington in 1996 with a degree in business administration.
Sean joined Popeyes Hawaii in 2001 as a marketing director.  He was promoted to Vice President soon after, where he oversaw the expansion of Popeyes Hawaii, doubling the number of restaurants from two to four locations.  He became President in 2007 and has continued to grow and diversify the family's business holdings.  Today the company operates six Popeyes locations with more on the way.
In 2010 Sean helped found U-Mobile LLC.  U-Mobile operates nine T-Mobile Retail stores in Hawaii.  In 2018, U-Mobile expanded to the Continental United States, building five stores in Washington/Idaho.   In 2016, Sean, along with two other partners, founded Take-N-Bake LLC, a franchisee of Papa Murphy Pizza restaurants, with two locations on Oahu.
Article: Restaurant Insider with Anne Lee: Popeyes Louisiana Kitchen Hawaii
Article: Popeyes Hawaii donates chicken and pies to five local nonprofits